Untold Stories
Despite racial wounds, Alcolu residents unite to preserve memories of a bygone heyday – PART 5
Shortly before a judge threw out George Stinney Jr.'s murder conviction, several men gathered along a four-lane highway that cuts through Alcolu. Their mission: Install a memorial to George in the form of a tombstone planted in a black man's front yard.
The yard belonged to Jerome Dupree, whose compulsion to honor George was rooted in the oft-told stories he'd heard from an elderly aunt. She'd had a sister with a white father and was certain of one thing: the 14-year-old did not kill the two white girls. A grown man named Burke had done it, and he'd confessed to the killings on his death bed. Or so she'd said.
Mostly, she complained that nobody had ever properly investigated the case.
Dupree's impression was that his aunt's sister might have heard the confession, given that she moved in white circles. But he couldn't go back and ask her to clarify. Like so many old enough to remember the 1940s, she had since passed away, taking with her crucial answers to the mystery of who killed Betty June Binnicker and Mary Emma Thames.
The story, however, clung to Dupree's conscience, this notion of a black child being railroaded to protect a white man. It took on fresh urgency after new evidence proved that George's trial was a sham.
With a group called A New Day, Dupree worked to create the memorial gravestone to honor George and make known the injustice done to him. The child was buried in an unmarked grave to protect its sanctity from vandals and racists, but Dupree wouldn't let him be cast the villain of Alcolu's history anymore.
No one was willing to host the memorial, however, not even the rural Pinewood church where George is buried. His family wanted to keep the location of his grave secret.
"The churches turned us down," Dupree said. "I guess they had a certain fear. Old people were used to being threatened by the Ku Klux Klan and all that, and the churches were afraid to accept it."
So, Dupree offered up his property.
He wasn't sure how the memorial would be received in Alcolu. Indeed, as the group stood on the front edge of his property to install it, three white men drove by. They slowed to look at the smooth granite tombstone. Then they made a U-turn and parked nearby.
The men, all middle-aged, sidled up as traffic barreled by on Sumter Highway, which now divided the farming community more than the railroad tracks once did. They stood reading the marker, which bore the words: "Wrongly convicted, illegally executed by South Carolina."
After a pause, one of them said, "This is beautiful."
***
Two years after the group dedicated the memorial, on a dirt road between Dupree's house and where the lumber mill once rumbled, charges of racism erupted anew when a neighborhood white boy set a 6-year-old black child on fire.
The white boy's family called it an accident. The black child's family called it a racist assault.
It felt disconcertingly familiar. Despite clear improvements, racially charged episodes like this one still nipped at the heels of progress in Alcolu, as they did across the South.
"White and black people looked at each other differently," Dupree recalled. "It stirred up old memories." But the year was 2016, not 1944, and the white boy was charged with first-degree assault and battery.
Nonetheless, many of the civil rights activists who climbed the Clarendon County courthouse steps to protest the child's burning felt that those in power hadn't done enough to remember the area's racist history — or atone for it.
That history was long and complex. Just a few years after George Stinney's execution, the little town of Summerton down the road was the birthplace of Briggs v. Elliott, an unequal busing challenge later consolidated with others into Brown v. Board of Education, which overturned the "separate but equal" doctrine for the entire nation.
Even today, a Confederate soldiers monument towered over the protesters as they gathered. They stood outside the place where, seven decades earlier, an all-white jury had sentenced George to die after only a few moments' debate.
Yet, the courthouse also was where, two decades earlier, a mostly black jury had awarded Macedonia Baptist Church a stunning $37.8 million verdict against KKK leaders whose rhetoric had incited several Klansmen to burn down the historic house of worship.
It was far more money than the church's attorneys had asked for.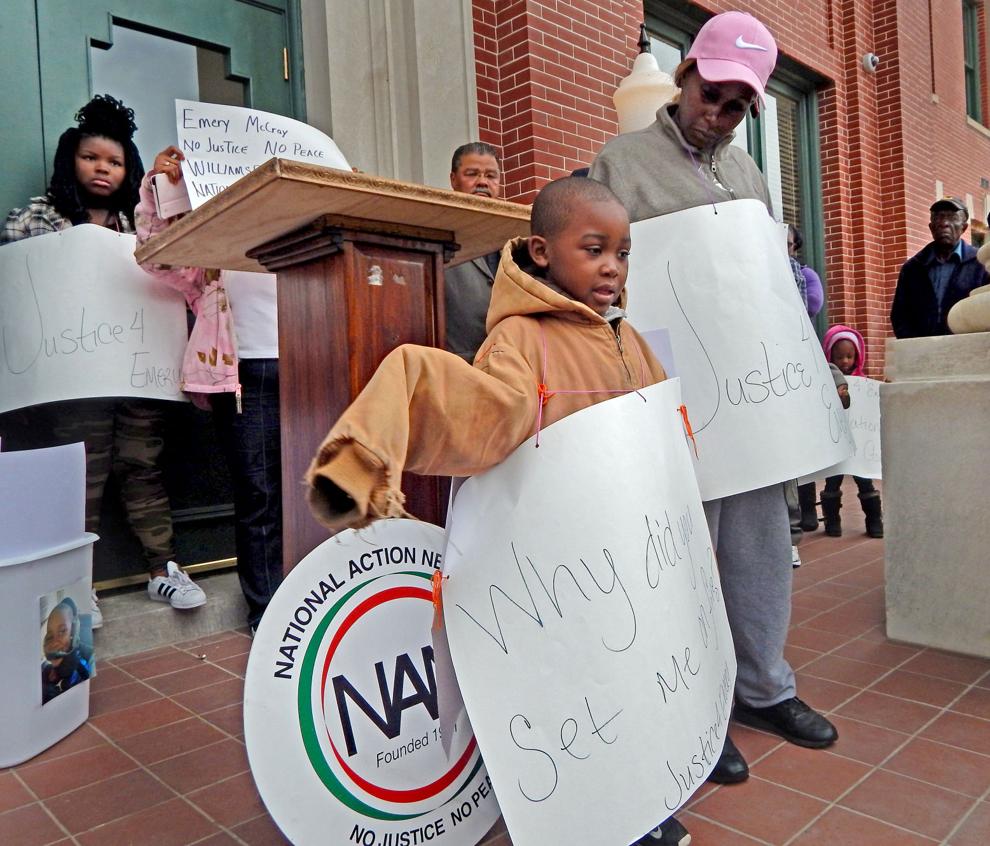 Rural counties like Clarendon, with their sleepy small towns, can feel stuck in days gone by. But that view is superficial, as evidenced by Alcolu itself, where much has changed.
The Aldermans' reign over the community ended in 1947 following a kerosene fire that destroyed the stately home of the lumber company's founding family. The mill switched hands twice after that until it shut down in 2000, closing the chapter in Alcolu's history when it was home to the southeast's largest sawmill.
Its population has dwindled since to fewer than 500 people, split almost evenly by race, a third of them living in poverty. Vestiges of their past remain in the smattering of mill houses still left standing, most of them vacant and drowning in weeds. Interstate 95 cuts right along the farming community today. Down the road five miles, the city of Manning, with its 4,000 people and a Walmart, provides what the once self-contained Alcolu no longer can.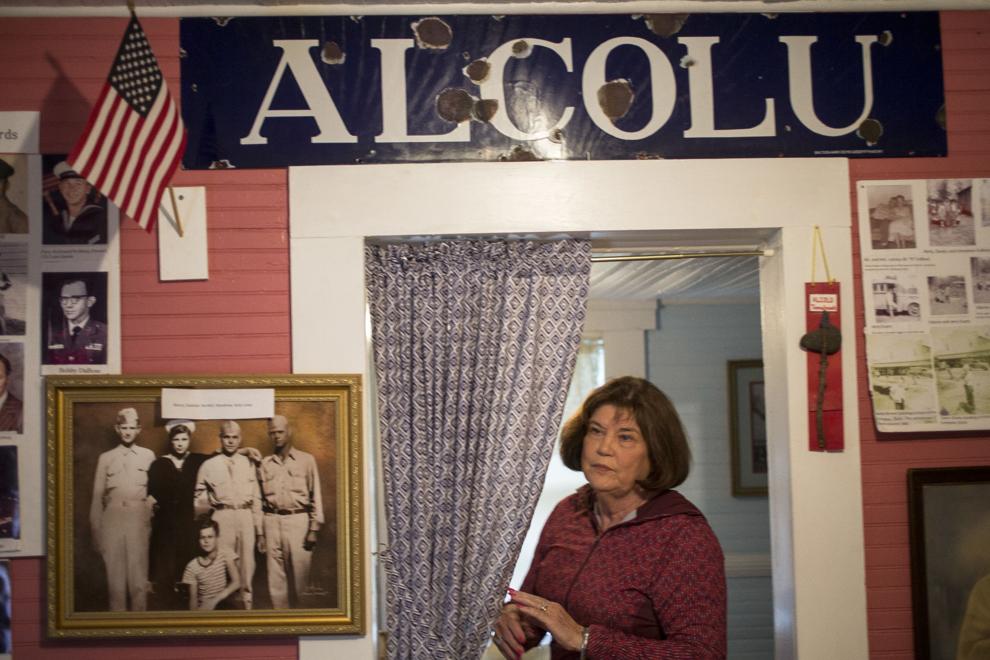 That worries Janice Richburg, an Alcolu native whose grandfather once ran its other store, the one that wasn't the Company Store, and who cherishes its memories perhaps more than anyone. As president of the Alcolu Preservation Society, she particularly values the community's biennial reunion, held to lure back those who have left and bond those who remain.
When it came around last October, Richburg held court from the pulpit of Clarendon Baptist Church, the "white church" in town, describing the society's work preserving an old mill house. The small emerald-green building, which had sat vacant for 50 years, now lives on as a time capsule of mementos from the village's heyday. Sepia-toned photographs of white and black residents line the walls. A corner dedicated to Alcolu Railroad Company features a kerosene oil lamp, a coal poker and a rusty railroad spike.
Not on the walls? Photographs, newspaper clippings, anything that mentions the three dead children. "Mostly, we want to remember the good that happened in Alcolu," Richburg explained.
Indeed, at the reunion, white and black faces filled every pew when Richburg plied them all for their fondest memories.
"Whose got stories? I wanna hear 'em."
Clyde Green, a black Army veteran in his 50s, volunteered first.
"I tell you what," he said. "I love Alcolu. My dad worked at the mill, you know, until the mill closed. And so, Alcolu has been great to us."
Then, one by one, several elderly white attendees recounted their idyllic lives in the area, making a point to note the generosity of the town's founding family, the Aldermans. They spoke of Vacation Bible School with Jennie Alderman and Boy Scout camping trips led by Ben Alderman. Every Christmas, the Aldermans gave every family a bag of fruit, the children small toys, and trees to those who couldn't afford them.
After a while, Pauline Blackwell, a 91-year-old black woman sitting in front, spoke up. She too worked for the Aldermans, but she wanted to talk about some other people, too — African American ones.
"Just let me recognize someone in our area," said Blackwell, the oldest woman at Greenhill Missionary Baptist. She mentioned the Rev. Hedrick Galloway, one of its old pastors. "There wouldn't have been anything there for us as black people if Rev. Galloway … and all of them didn't come here and organize."
The audience nodded in agreement. And then they continued on, recounting happy days of scampering along the railroad tracks and purchasing sweets at the Company Store. Nobody mentioned George Stinney Jr. But had he lived, he might have swapped stories with them.
The date was Oct. 21, 2017, the day he would have turned 88.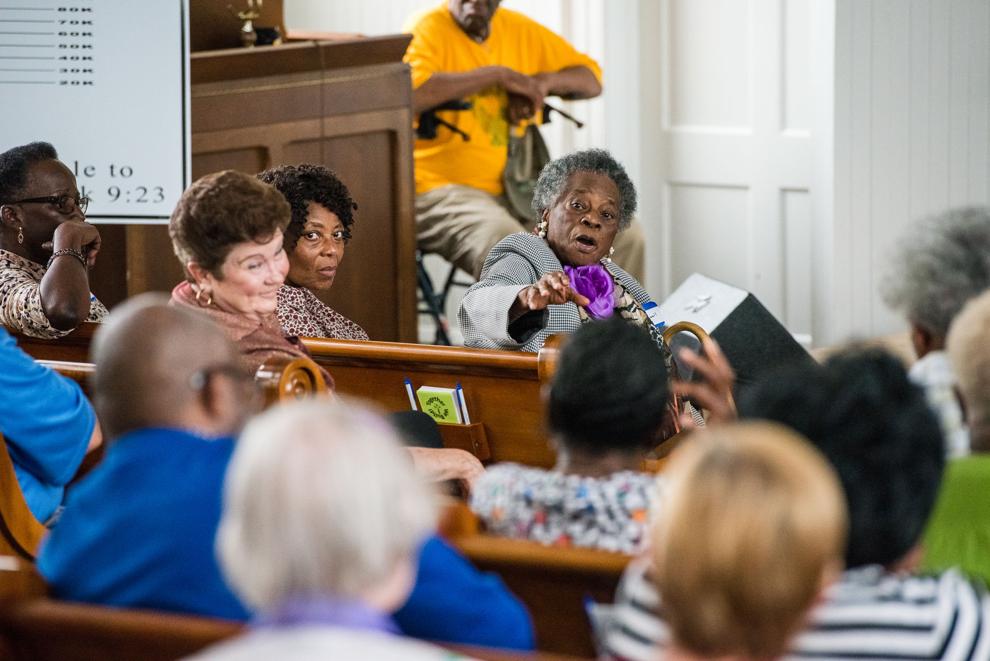 ***
Although the preservation society is mostly white, Richburg made a point of reaching out to black residents to preserve their memories as well. In ways like this, a joint fear of losing old Alcolu has helped to unite people, black and white.
"I don't want to leave anyone out. I want them to feel like this is their Alcolu, too. And it is," she said.
That quest for inclusion led her to Pauline Blackwell and a friendship that showed what's possible for Alcolu's future.
Blackwell, who was born in 1926, picked cotton and cared for the sons of Ben Alderman. The Company provided what her family needed, even during the Great Depression, and for that they were grateful. She went to a school with only black children and a church with only black people, but she didn't feel deprived. Families like hers didn't think much of it. They knew where they stood.
That's just how things were.
From her living room late this winter, on a day when the damp chill left her legs aching, she considered that view of segregation with a certain sadness. "It's almost like living in the dark. And you in the dark so long till everything seems dark, see? When the light come in, then you see it different. You can see things clearly."
Gazing out of her living room window, Blackwell described the white friends she now enjoyed, including the preservation society's Richburg, who was hurrying up to her front door as she spoke.
"Janice!" she smiled warmly.
She ushered Richburg in from the drizzle outside to join her in the living room, paneled with wood processed at the old lumber mill. Richburg sat close beside her in a rocking chair, and they quickly began to trade old Alcolu stories, each reaching to touch the other lightly on the arm as they spoke.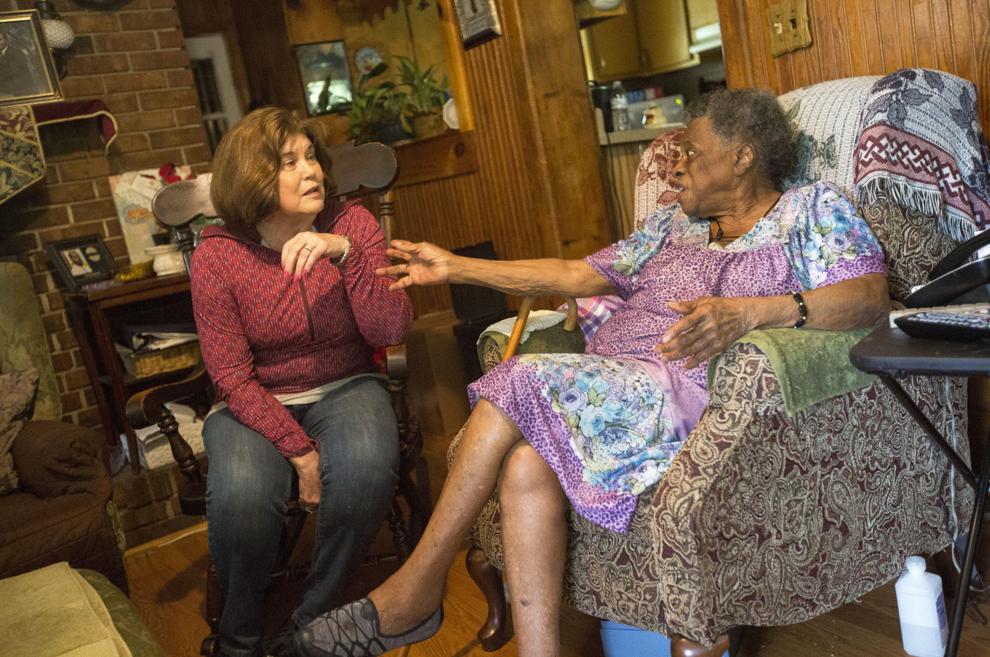 Though a good generation or two younger, Richburg also grew up in segregated Alcolu. She remembered Bertha, her family's black housekeeper. When her grandmother picked up Bertha, the black woman sat in back. Richburg didn't think much of it, until later. "We've come a long way — and had a long way to come."
Through that lens, both women reflected on the tragic events of 1944 with sorrow.
"That was so unfortunate, unfortunate," Richburg said.
Blackwell nodded. "Yep, it sure was. Sure was."
"Not two children but three children lost their lives."
"Sure did. Sure did."
Yet, the mystery of who killed the girls still lingered. When asked who the people of Alcolu thought might have killed them, if not George Stinney, the women looked at one another.
"You ever hear anything about it?" Richburg asked.
"I don't never hear anything about it," Blackwell said.
"I don't either. I guess they just don't talk about it. It's 75 years ago that it happened, and I guess they've just moved on."
"Just moved on."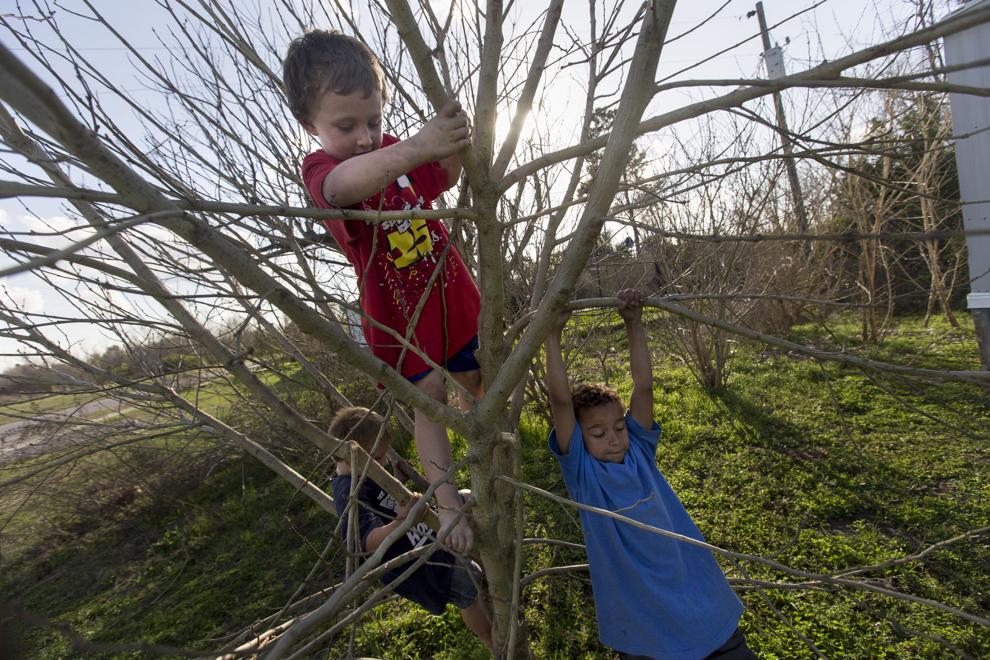 ADVERTISMENT